Metro UI jQuery Plugin Collection Jan 2013 gathers jQuery plugins have Metro UI style design with cool, unique features for future trends.
MetroTab is a light Metro UI jQuery plugin to create tabs for metro ui themes with unique features responsive design, unlimited tabs, content ajax and inline combination.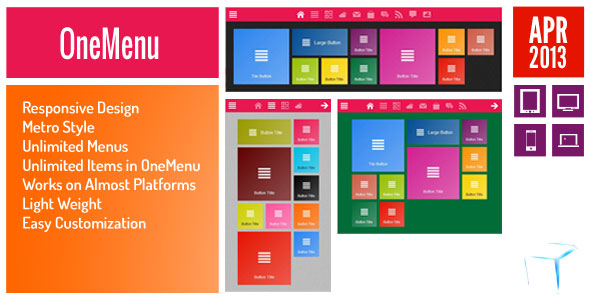 OneMenu is a jQuery Navigation Menu Plugin for Metro UI themes. With this plugin you can create unlimited navigation panel and menus easily, responsive design of OneMenu will align automatically all items to fit with screen sizes. Additionally, you can customize the style of items with a lot of colors that have already created in CSS.
MetroPanel is a Metro UI jQuery plugin that use to make a panel for your web application. With this plugin you will impress you visitors by great features, improve your page speed with smart load feature.
Megafolio Pro is a fully responsive media grid plugin that allows you to display content in almost every way possible using preset or randomly generated layouts. Megafolio Pro features a large variety of options allowing you to control the layout of your item grid in the way that pleases you most.
MelonHTML5 – Metro UI is a flexible and easy to integrate framework to build your one page website in Windows 8 Metro UI. It is fully powered by HTML5, CSS3 and JavaScript.
The Metro Flexible Navigation is a minimal, clean grid layout inspired by the new Windows 8 interface. It can be customized to be laid out horizontally or vertically. It's scrollable and dragable at the same time and contains useful sliding controls.
Metroplayer is a fullscreen jquery music player plugin. Built off the open source jplayer multimedia plugin. The GUI resembles the unique look and feel of the win8 metro interface. Metroplayer allows you to organize and play your mp3 files with ease. Creating a playlist is simple and effortless. All you have to do is edit a single json file and your ready to go!
LEAVE A COMMENT